MAGIC SPELL
PERFORMANCE MUSIC
FOR MAGICIANS AND ARTISTS
WITH INCLUDED LICENSE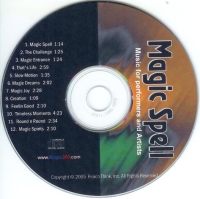 Fresh HIGH QUALITY Magic Music, with Included license, for use in your own performances and works. Digitally Mastered and requires no splicing, no clicking, just pick and play. Don't get caught using music that you don't have rights to use. All our music comes with a full license to use in your own performances and works. This is a themed music series and Magic Spell contains spell like music. Included is a variety of styles, including soft, melodic, fast, rock, jazz and more. A Full CD of music with mastered themed songs. Music CDs that offer a lifetime license for use, can sell anywhere from $30 to $250. Digitally delivered directly to your computer in MP3 format.
Order Now: $9.99
Free Shipping